At home hair dyes have come a long way! The best home hair dye UK are easy to apply, most boxes come with all the equipment you might need and don't take up much of your time.
Changing your hair colours along with trying out different hairstyles is the easiest way to change up your style. It's enough to give you a whole new aesthetic and personality.
You don't have to plan in advance, don't have to struggle to get that appointment with the hairstylist in that popular overpriced salon. And the best part – these cost a fraction of what you would pay in a salon. As long as you take care of your hair pre and post-application, you can sport some really gorgeous colors, in a jiffy. Here are some of the best at-home hair dyes you can find in the UK:
Best Home Hair Dye UK 2021
#1- WELLA Color Charm hair
Best Home Hair Dye Uk Ash Blonde
The advantage of using a well established brand that has been around for a long time is the choice of shades.
Wella Color Charm is a permanent hair colour that comes in 68 shades to suit any original hair colour. Be it blonde or brunette, you have a wide choice to pick from. It comes in a bottle applicator that is easy to squeeze into your hair.
With your gloved finger tips, spread the colour around to coat all your strands and you are done.
All this takes is just 10 mins. A great choice if you want to cover your greys at home hassle-free, this package is cheap and easily available online.
#2- Schwarzkopf Keratin color permanent hair color
Best Box Hair Dye For Brunettes
A popular choice amongst many salons and professionals across the world, Schwarzkopf has evolved over the years to give you dyes that are rich and also protect your hair.
With its trademark "K-Bond Plex" technology, this permanent hair colour comes infused with keratin to coat your strands as you spread the hair dye.
The pre-colour serum moisturises the hair and conditions it, preparing it for the hair colour.
The post-application K Bond Plex conditioner strengthens and nourishes the hair, reducing the chance of breakage and leaving your hair shiny, glossy and lustrous.
The hair dye gives you 100% coverage for greys and the thick consistency spreads well with ease.
As a bonus, it also smells nice which we miss in a lot of hair dyes.
#3- L'Oréal Paris Colorista home hair dye UK
Best Home Hair Dye Uk Blonde
While L'oreal Paris has plenty of hair dye series in its wide range of styling products, the Colorista is something you must take a look at if you are a lighter brunette and love young, vibrant colours.
Ranging from reds to blues and greens, this is what you've been looking for to give yourself that makeover!
This is a semi-permanent colour that washes away little by little with every hair wash, fading slightly to give you a different colour every day.
Over time it changes the tone as well, so you get to sport totally different colours over the period.
Lasting up to 15 shampoos, this dye is easy to apply and is free of harmful ammonia and peroxide.
#4- Garnier Olia Hair Dye
Best Home Hair Dye UK For Black Hair
Garnier Olia is a permanent hair dye free of ammonia, perfect if you are showing greys and want to cover them up. Suitable for all natural colours of hair, Olia has 34 shades that you can pick from to match the closest.
This hair dye is infused with oils derived from flowers and they make up about 60% of the ingredients.
These moisturise your hair, lock in the hydration to ensure that your hair does not get dry and brittle, which is usually the common side-effect of colouring your hair.
Olia promises hair that looks 3 times shinier and we have to agree.
Creamy in texture, this hair dye does not drip, making it easy for you to spread with your fingertips or a brush.
#5- Schwarzkopf Live Intense Permanent Hair Colour
Best Permanent Home Hair Dye UK
Here you go, another permanent hair colour option from the professional brand, Schwarzkopf.
The Live Intense is a series of hair colours that are brilliant and bright. Easily available online in the UK, this has some seriously bright reds if that's your preference.
The price is higher than most other hair dyes in the market but it takes time to wash out and stays its true colour for a long time.
Like most Schwarzkopf hair products, this takes care of your hair, makes it softer to the touch and keeps it glossy and shiny without drying it out.
It certainly is worth the money you spend on it.
#6- John Frieda Precision Foam home hair dye
Best Non-Drip Home Hair Dye UK
Moving away front the traditional drip colours and the creme based dyes, John Frieda brings up revolutionary foam textured hair colour! We have to admit, it is definitely more fun using this.
The idea behind the foam is that it is easier to penetrate the strands and reach the roots plus other hard to reach areas of the hair to offer more coverage.
It did do the job plus left very little mess afterwards, so that's a thumbs up from us.
As for the texture of the hair, this hair dye left the hair soft and shiny, right from the roots to the tips.
The after colour conditioner smoothened out the hair and made it easier to brush it.
What we also liked is that the box comes with all the equipment you need including gloves, making your life easier.
#7- Arctic Fox Ritual Home Hair Dye UK
Best Blonde Hair Dye For Dark Roots
Arctic Fox Ritual is a semi-permanent hair colour with some real fun colours for you to experiment with.
The shades are electric and vivid, the application is easy and the ingredients are all vegan and cruelty-free.
The dyes are highly pigmented and will stay on for at least 30-35 washes which is way beyond how long most semi-permanent dyes last, fading away slowly to reveal different shades of the colour you opt for.
They are free of ammonia and peroxide, and condition the hair to make it soft and glossy.
If you want to be creative, you can get a diluter to alter the colours to give you a totally different shade.
#8- Punky Spring home hair dye UK
Best Wash In Wash Out Hair Colour For Grey Hair
Punky Spring is a semi-permanent hair dye with super fun colours like bright yellow, cotton candy pink and poppy red.
There are loads of greens and blues to choose from as well. You can tap into your artistic side and experiment mixing a couple of colours to make your own unique shade.
Lasting at least 25 washes, these dyes condition your hair with a keratin complex to strengthen your hair, make it softer and glossier, so you are not left with brittle and dry hair.
It's easy to apply as you don't need a pre-mix or previous prep work. It also smells alright as it does not have ammonia or peroxide.
All you need is about 20 minutes to apply, leave in and rinse it out.
#9- Revlon Colorsilk home hair dye UK
Best Semi Permanent Home Hair Dye Uk
Get silky and glossy hair with the hair dyes from Revlon Colorsilk. Enriched with Keratin, this hair dye gives your hair a protective layer, strengthening the strands and preventing breakage.
The amino acids protect it further and add to the health of your hair. Healthy hair definitely looks better when treated to hair colour and Revlon Colorsilk is evidence of it.
Free of ammonia, this hair dye is safe to be used and smells quite nice as well.
There is a conditioner that comes with the package to be applied after you have rinsed out the colour.
This is a fantastic dye for maximum coverage of greys and comes in plenty of shades to suit your natural hair colour.
#10- Phyto home hair dye UK
Best Home Hair Dye UK for Dry, Damaged Hair
Finding a brand that caters to all shades of hair, right from blondes, red heads to brunettes is quite difficult. Phyto has managed to cover all of these with an extensive shade list, so there is something for everybody.
Heavily moisturising with a triple oil combination, the Phyto permanent hair dye will not dry your hair like most in the market do.
The blend of avocado oil, olive oil and shea not only moisturise your hair, but also infuse it with healthy vitamins and fatty acids to strengthen it, soften it and keep it youthful and vibrant.
#11- Josh Wood Hair Dye
Best Professional Hair Color Brand
The Josh Wood Hair Dye is a choice of many celebrities, is currently making waves thanks to its at-home hair dye kit.
This creme based permanent colour is enriched Miracle Shot, a treatment booster that moisturise the hair and keep it hydrated.
It improves the elasticity of the hair to keep it from breaking. Keratin strengthens the hair and restores its health.
The 12 available colours are rich, give you maximum coverage for greys and the texture is easy to apply and spread.
#12- Knight & Wilson Pureplex
Best Home Hair Dye UK for Grey Coverage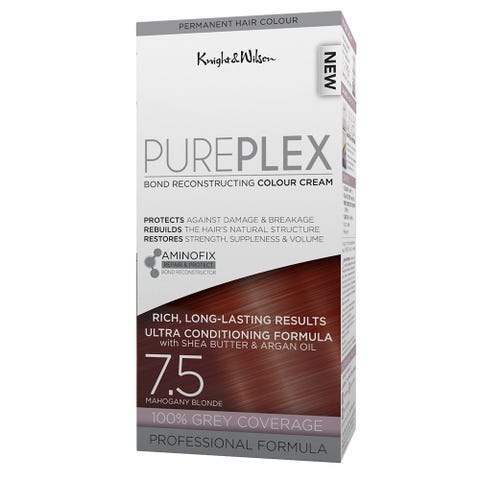 Knight & Wilson hair dye is a value for money package.
You can use each package for up to 3 times. You even get 3 pairs of gloves in the package indicating that.
This hair dye comes with an applicator that is perfect if you are showing some greys and want to touch up only those.
The can it comes in and the brush makes it mess-free, quick and super easy to use. All it takes is about 10 minutes from start to finish.
This hair dye is available in 13 shades to suit most colours of hair.
Which home hair dye is best UK?
The Josh Wood Hair Dye is the best brand for at-home hair colouring in the UK. It's the go-to brand for many influencers and celebrities. It doesn't contain ammonia and helps keep your hair soft and nourished.
Are home hair dyes as good as salon?
If you are looking at precision, we suggest you go to the salon to get your hair dyed. But if you want to save some bucks and get it done at home then you can go ahead with home dyes.
Another pro of going to the salon to get your hair dyed is that you can get suggestions on texture.
With these simple and good quality home dyes in UK so that you can use it easily.
Also read
Check out these eye creams to get smooth skin under the eyes
Never be afraid to smile! Make your teeth whiter and brighter with these kits
Try these nourishing curling mascaras that help you flaunt your long lashes
Get a new outfit to match your hair color on the first day of school!